Our Company
At the forefront of visionary innovations in eye care since 1853.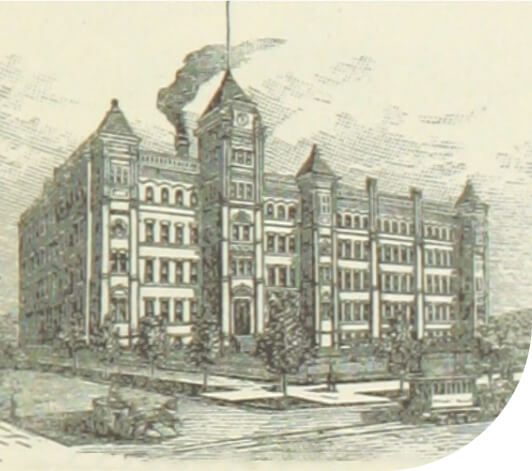 Bausch + Lomb established in 1853 in Rochester, New York, as a small optical shop that grew to become a large healthcare company with over 10,000 employees in 100 plus countries around the world. Since our establishment, Bausch + Lomb has been at the forefront of visionary innovations in eye care dedicated to perfecting vision and enhancing life. Now Bausch + Lomb is a part of Bausch Health, a diverse multinational healthcare company. As a company of Bausch Health, Bausch + Lomb is even better positioned to enrich its portfolio in eye care market sector while bringing its wealth of experience into new areas and diversifying in wider therapeutic areas in healthcare.
What we do
Helping people see better to live better. Bausch + Lomb is a wholly owned subsidiary of Bausch Health, a diverse healthcare company that is committed to improving the health and well-being of patients and consumers around the world. Trust, mutual respect and ethical behavior are essential to Bausch + Lomb's relationships with our healthcare professional partners, our customers, and our employees. In these relationships, we must conduct our business with the highest ethical standards − always ensuring that our behaviours are consistent with both the letter and the spirit of company policies, laws and regulations and with the exercise of good business judgment.
Pharmaceuticals:
Bausch + Lomb's Pharmaceutical portfolio has played a key role in supporting the clinical practice of Ophthalmologists and Optometrists for nearly 60 years. With our range of single use preservative free products, dry eye treatments and surgical aftercare we offer convenient, quality solutions which enable clinicians to improve their patients' quality of life. Eyecare is our heritage and we are dedicated to innovation to meet the changing needs of clinicians and patients.
Vision Care:
Vision Care works in partnership with Eye Care Professionals and Retailers to provide real world technological advancements in Contact Lenses, Lens Care Solutions and Over-the-Counter Eye Health products. Our products are designed to help eyecare patients live a modern lifestyle with greater comfort and improved vision. At Bausch + Lomb we continue to leverage our medical heritage and expertise in eyecare to be at the forefront of innovation for both patients and practitioners alike.
Surgical:
With a strong heritage of industry leading technical innovation, Bausch + Lomb's surgical business continues to be at the forefront of eye surgery, around the world. Our team are passionate about supporting our range of Phacoemulsification machines & associated consumables, Intra Ocular Lenses, in daily use across the country. Working in partnership with health care professionals, we continually strive to provide optimal surgical solutions to our customers, and ultimately, to patients.
Guiding Principles
We have a strong belief that the company's success coincides with the achievement of personal and professional goals. We are a progressive, exciting place to work. Our Bausch and Lomb mission of "helping people see better to live better" supports the Bausch Health purpose which is to 'Improve people's lives through our healthcare products' and this is supported by five guiding principles that are fundamental to our success and future growth.
Quality Healthcare Outcomes
Bausch and Lomb is dedicated to delivering high-value, meaningful products and services that resonate with all of our partners, patients and prescribers. Bringing value to our stakeholders while delivering safe and effective products is at the heart of everything we do.
Customer Focused
From leadership down through our entire organisation, we measure ourselves and our actions through the lens of our customers and patients. We look to build strong relationships with our customers and then deliver on quality products and service.
Innovation
A continued emphasis on innovation remains an essential to our business strategy – searching out new ways to do things and continuously identifying opportunities to design, develop and advance creative, ethical solutions that are timely and effective.
Efficiency
Our focus and execution enable Bausch and Lomb to drive productivity throughout the organisation, leaving no stone unturned in identifying where we can make improvements and deliver value. We address the challenges inherent with a changing market quickly and never compromise on quality
People
Our employees come to work each day focused on improving peoples' lives through our healthcare products. They are essential to the success of the organisation. We strive to build and retain a strong team by recognising and rewarding excellence and creating development opportunities. High-performing individuals are critical as they provide a foundation for future success.