The Bausch + Lomb Story
 EST 1853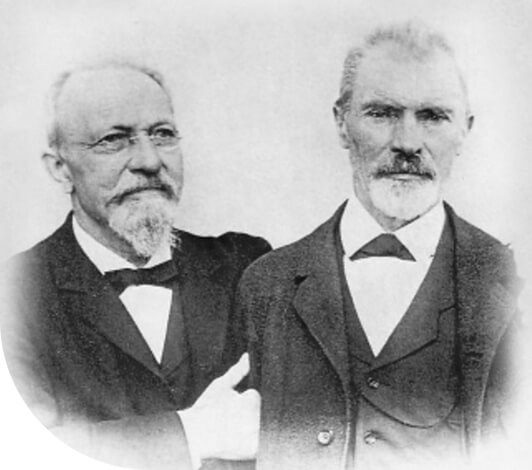 One of the oldest continually operating companies in the US today, Bausch + Lomb traces its roots to 1853, when John Jacob Bausch, a German immigrant, set up a tiny optical goods shop in Rochester, New York. When he needed more money to keep the business going, Bausch borrowed $62 from his good friend, Henry Lomb. Bausch promised that if the business grew, Lomb would be made a full partner. The business did grow and the partnership was formed.
In the early years, Bausch + Lomb manufactured revolutionary rubber eyeglass frames as well as a variety of optical products that required a high degree of manufacturing precision. By 1903, the firm had been issued patents for microscopes, binoculars, and even a camera shutter based on the eye's reaction to light…
A History of Innovation
In the 1900's, Bausch + Lomb continued to demonstrate its place at the forefront of technological innovation for optical products. Bausch + Lomb produced the first optical quality glass made in America, developed ground-breaking sunglasses for the military in World War I, and created the lenses used on the cameras that took the first satellite pictures of the moon. In 1971, Bausch + Lomb introduced the first soft contact lenses and is still one of the largest global provider of eye care products.
Although products and times have changed, Bausch + Lomb still adheres to the legacy of dedication to innovation, quality, and craftsmanship established by John Jacob Bausch and Henry Lomb.
Acquisition of AcuFocus™ which brought the IC-8™ small aperture extended depth of focus IOL to the Bausch + Lomb Surgical Portfolio.

LuxSmart™ and LuxSmart™ Toric Preloaded premium IOL platform launched in Australia featuring Pure Refractive Optics (PRO) Technology.

Enhanced enVista® Non-preloaded Monofocal and Monofocal Toric launched in Australia.

Enhanced enVista® Toric Pre-loaded monofocal IOL launched in Australia.
LuxGood™ Preloaded Monofocal IOL is introduced to Bausch + Lomb Australia.

Ultra® ONE DAY sphere lenses launched – the most complete Si-Hy (Silicone Hydrogel) contact lens.
Enhanced enVista® Preloaded is launched with advanced next generation material.

ULTRA® toric lenses launched and completed the innovative Ultra range

Biotrue® ONEday toric lenses launched completing the bio-inspired daily disposa ble lenses range
Bausch + Lomb launch Stellaris® Elite - built for the next generation.

ULTRA® multifocal lenses launched - adding further innovation to the range

Biotrue® ONEday for Presbyopia launched.
ULTRA® launched – contact lenses as innovative as the digital world.

The Viscotears Eye Gel range joins the Bausch + Lomb portfolio.
Bausch + Lomb widens surgical portfolio with acquisition of Synergetics Inc.



FineVision®, the first trifocal intraocular lens launches in Australia.
Biotrue® ONEday spheres, the first bio-inspired daily disposable contact lens launched.

Biotrue® , the first bio-inspired multi-purpose solution launched.

enVista® the first FDA approved glistening-free intraocular lens.
PureVision® 2 HD spherical lens launched.

Bausch + Lomb acquires Miochol-E®

2010 - Stellaris® PC introduces procedural choice to the platform.
2007 - Stellaris® Vision Enhancement System is launched, breaking new ground in cataract surgery.
2001 - Bausch + Lomb introduce Millennium®.
2000 - Acquisition of Chaupvin brings Minims® to the Bausch + Lomb stable of brands.

1999 - Introduction of PureVision® Silicone Hydrogel contact lenses.
1997 - Surgical business established focusing on cataract, vitreoretinal and laser vision corrective surgeries.

1987 - ReNu® all-in-one contact lens cleaning solution launched.
1983 - Boston® brand joins the Bausch + Lomb portfolio.

Bausch + Lomb manufactures world's first approved soft contact lens.

Bausch & Lomb Optical Co. receive an honorary Oscar for their contribution to the advancement of the motion picture industry.

Ray-Ban sunglasses are sold to the public for the first time.

First optical quality product in America; supply military with lenses during WW1.

Microscopes, binocular and telescope production begins.

John Jacob Bausch and Henry Lomb open an optical goods store in Rochester, NY.